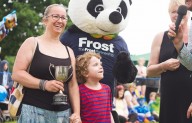 Chesham Town Carnival
Judging the local schools floats competition at the carnival in Lowndes Park with the help of Frosty the panda.
---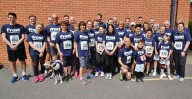 Gerrards Cross Fun Run
32 runners - staff, family and friends - aged from 4 to 72 (and one dog!) representing seven of our fifteen offices, made up Team Frost at the annual Gerrards Cross Fun Run on Sunday 22nd May. It's a great family day out with live music, barbecue, bouncy castle, donkey rides, games and stalls. Several charities benefitted from the day including Medical Detection Dogs, Kids in Sport and the Elizabeth Voaden Foundation, a cancer charity based in South East England.
---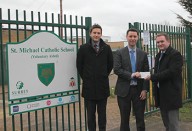 Supporting local schools
Alex White and Jamie King from our Ashford office were delighted to present a cheque to the head teacher at St Michael School, Ashford for the sponsorship of their Christmas Fair in December. The event was a massive success and raised much needed funds for the school. The PTA at St Michael are particularly looking into the possibility of buying a school minibus to take children on educational school trips as their biggest expense for trips is often hiring a coach. They are also looking at new ways to fund many other projects and school supplies for the children. Frosts will be continuing to support the school with sponsorship of events throughout the year.
---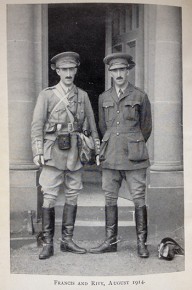 Behind the Lines: The Beaconsfield Society commemorates the Great War
We are delighted to have been the official supporter of The Beaconsfield Society 's literary event, which took place on April 12th to commemorate the centenary of World War One. "Behind The Lines" tells the story of what people thought at home at the start of the War, and what soldiers experienced at the Front, as it went into its second, third and fourth years. The event was a sell out success and was presented by reknowned actors Gabriel Woolf and Linda Hart.
---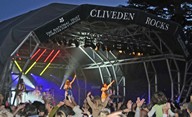 Cliveden Rocks
We are proud to have been the official sponsor of Cliveden Rocks! -The National Trust's weekend of fabulous concerts and firework displays within the grounds of Cliveden Manor House.
---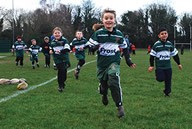 Mini rugby
As part of our continued work to support the communities in which we operate, we are delighted to sponsor the Slough U6-8s rugby teams, supplying kit and support to give children the chance to get involved in the great sport of rugby union.
---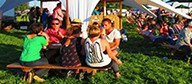 Champagne and music
The inaugural Jazz on the Common took place last summer in Gerrards Cross, sponsored by Frosts and raising funds for the good work of the Rennie Grove Hospice Care.
---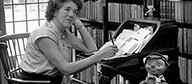 Enid Blyton week
The Beaconsfield Society celebrated the 75th anniversary of Enid Blyton's arrival in the town with a week-long of festivities, sponsored by The Frost Partnership. The week included an evening hosted by the National Film and TV School as well as fun at Bekonscot Model Village.
---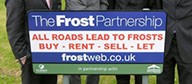 In a roundabout way...
The Frost Partnership is doing its bit for the local community around Ashford and Staines by sponsoring the maintenance of roundabouts.
---