The Association of Residential Lettings Agents (ARLA Propertymark)
The Frost Partnership is an ARLA Propertymark letting agent. ARLA Propertymark is the only professional body that is solely concerned with the regulation of Letting Agents, and for 25 years has been actively promoting the highest standards across every aspect of residential letting and management. ARLA Propertymark member firms are required to work within the codes of practice, which covers the key stages of Letting and Management of property.
---

National Association of Estate Agents (NAEA Propertymark)
NAEA Propertymark is the UK's leading professional body for estate agency. Its international members are bound by strict rules of conduct to ensure they offer you the highest level of integrity and service, while the association's entry qualification means you can be sure you are dealing with a professional property agency.
---

Royal Institution of Chartered Surveyors (RICS)
Our Surveyors are members of the Royal Institution of Chartered Surveyors, qualified to carry out surveys and valuations on commercial and residential properties throughout the UK and certified to carry out the popular RICS approved Homebuyers reports and valuations. With around 100,000 qualified members in some 140 countries, RICS is one of the most respected organisations for professionals involved in land, property, construction and associated environmental issues.
Clients' money protection: RICS rules state that firms regulated by RICS shall preserve the security of clients' money entrusted to it. We therefore ensure that clients' money is protected; any clients' money entrusted to us is held in a client account, separate from our own money and can only be used for purposes agreed with us by the client. Click here to see The Frost Partnership's Procedures for Handling Client Money. RICS also funds a Client Money Protection Scheme – a free service provided by RICS to clients of firms that are regulated by RICS. Click here for certificate
---

Independent Estate Agents Group (IEAG)
IEAG is an association of leading independent Estate Agents and Chartered Surveyors from across the country, consisting of wholly independent firms with a long track record of providing a high quality multi-specialism professional service. The group provides an experienced voice within the estate agency profession providing integrity, guidance and help to members, practitioners and consumers.
---

The Property Redress Scheme
We are part of The Property Redress Scheme – a government authorized Consumer Redress Scheme for lettings, property management and estate agents and other property professionals. The Property Redress Scheme is approved by Government under the Alternative Dispute Resolution for Consumer Disputes (Competent Authorities and Information) Regulations 2015. This means that domestic customers of estate agents have the right to take certain complaints to the PRS if the firm or company fails to resolve the problem. We are also members of the Royal Institution of Chartered Surveyors (RICS) who handle complaints about their members.
---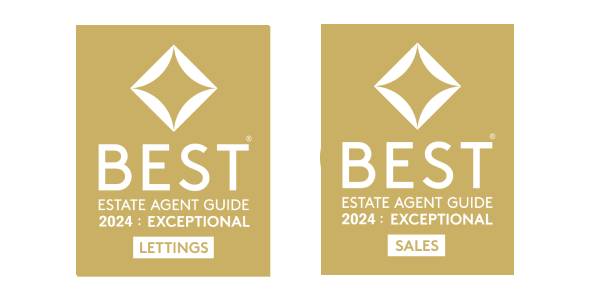 Award winning service in every Frost office
Winners in the Best Estate Agent Guide 2019, 2020, 2021, 2022, 2023 and 2024. We are in the top 2% of estate agents in the UK.
---
Further protection for landlords and tenants

Reference checks on tenants may include:
Checking the potential tenant is who they say they are
Confirming that the tenants can afford the rent
Checking that the tenants have honoured past rental agreements
Ensuring they are able to work in the United Kingdom (Non EC nationals only)
Identity/character reference checks
Commercial tenants may require additional references and supporting documents, contact our commercial team to find out more.
---

Guaranteed rent on time and in full EVERY month
The Frost Partnership offers landlords the opportunity to take out a Guaranteed Rent Policy specifically designed to ensure your property is fully protected from all potential liabilities including loss of rent, damages and legal cover. It includes all the fantastic benefits of a normal rent guarantee service, with the additional perk of making sure you receive your rent on time and in full, no matter what and no excess.
---

Zero Deposit Option
Rent faster, reduce void periods and increase the deposit from the maximum 5 week level cash deposit to 6 weeks whilst keeping the same protection as a traditional security deposit. Those are some of the benefits landlords receive from instructing a letting agent that offers a Zero Deposit Option to tenants. For tenants the Zero Deposit Option helps to reduce the upfront cost of renting, and can speed up the whole process by minimising paperwork and hassle – a win win for all!
For more information on how the Guaranteed Rent policy and Zero Deposit Option can work for you, please contact your local Frost office.
---

Tenancy Deposit Scheme (TDS)
We now register all deposits held on behalf of tenancy agreements with the Tenancy Deposit Scheme (TDS). Designed to protect the tenant's deposit and the landlord's property during a lease term. A nominal administrative fee is required by both the tenant and landlord to apply for this scheme.