Home

›

Lettings

› Relocation Services
Relocation services
In 2013 The Frost Partnership won the highest accolade for lettings referrals, being crowned 'Lettings Referral Award Winner 2013' by Cartus' Relocation Agent Network, the premier provider of global relocation services.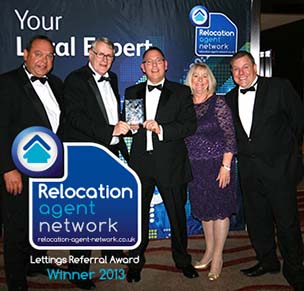 Through this award, we have been recognised for providing the highest level of property referrals for lettings - providing professional, friendly support and expert advice to 1000's of our Relocation Agent Network clients on the move every year.
By working alongside Cartus' vast network of 750 Relocation Agent Network members across England, Scotland and Wales, our combined services help provide our clients with expert relocation and property services, ensuring your relocation or repatriation experience in the areas we cover are as smooth as possible.
Our relationship with Cartus also provides us with a unique opportunity to present our large portfolio of properties for sale and to rent to an even larger audience of active tenants or potential buyers than most other estate agents.
We pride ourselves in providing a full range of property services to help all of our clients with their diverse property related needs, offering:
For more details about our relocation services contact us by email
Or simply call your nearest Frost Partnership Office