The Frost Partnership Estate Agents in Chalfont St Peter
Covid-19 Notice
All Frost employees are now set up and working from home in order to safeguard both our clients and our staff. Whilst we are not physically in our offices, until government restrictions are lifted, it is very much business as usual (appointments aside) and we continue to offer a professional service for our vendors and buyers, landlords and tenants. You can also register your requirements or interest in specific properties.
Please contact your local Frost office (details below) by telephone or email in the normal way and we will answer any property questions you may have with up to date guidance and sound advice in this rapidly changing scenario.
We wish you well and look forward to hearing from you.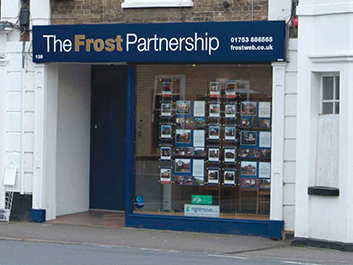 Bridge House, 139 High Street, Chalfont St Peter, Bucks SL9 9QL
Chalfont St Peter Sales

01753 886565

E chalfontstpeter@frostweb.co.uk
Chalfont St Peter Lettings

01753 886565

E chalfontstpeter@frostlettings.co.uk
Opening hours
Monday - Friday: 8.30 am - 6.00 pm
Saturday: 9.00 am - 4.00 pm
Sun: Closed
Chalfont St Peter office covers: Chalfont St Peter, Harefield, Maple Cross, Chorleywood.
Chalfont St Peter area guide | Properties in Chalfont St Peter | for sale | to rent
Sales and Lettings

Steve Ariss FNAEA
Branch Manager
Steve uses 30 years' experience and expert knowledge of the property business to full effect displaying calmness under pressure in all he does. As manager of the Chalfont St Peter branch, Steve leads a well respected team advising clients through all aspects of the sales and lettings process.
Sales & Lettings




Chalfont St Peter is a vibrant and popular village situated in one of the most sought after areas outside London. The excellent selection of schools, wide variety of shops, pubs, restaurants and leisure facilities make it a highly desirable place to live.
The Frost Partnership have been selling property in the village for over a hundred years, ever since the first Frost office opened in 1906. We are therefore the longest serving and most established estate agents in the local area.