Archie's Journey
Thursday, January 14, 2021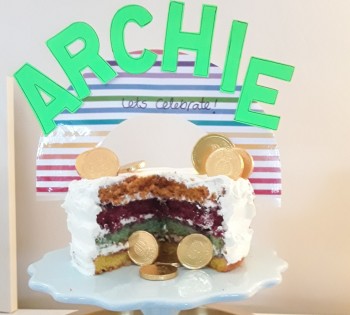 Congratulations to Woodland Manor Care Home, Chalfont St Peter who raised £1745 in their virtual Bake Off for Archie, sponsored by our Chalfont St Peter office. The Bake Off turned out to be a huge success with many decorated cake entries for both the juniors and seniors and the prize draw. Residents from Woodland Manor and Steve Ariss, manager at our Chalfont St Peter office selected the winners! Congratulations all!
1st Prize for the junior (under 15) decorated cake (pictured) was Jonah who received £100. 1st Prize for the senior decorated cake was Jane who received £100. Thank you to Jane, who donated part of her winnings to the cause and to Jonah for using some of the prize money to buy Archie and his brother Henry some lovely Christmas presents.
From the publicity that the event received, a company in Marlow has stepped forward to see if they can help with Archie's fundraising further. With a target of £230,000, just over £205,300 or 89% has been raised for Archie's Journey. If you would like to help them over the line, please click here for more details of how to donate.