Bake Off for Archie!
Thursday, November 19, 2020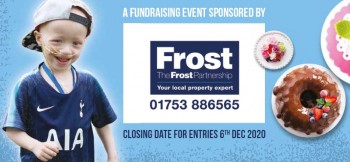 Ready Steady Bake! Join the fun and create a highly decorated cake with the theme "Celebrations" to enter "Bake off for Archie!". Frosts' Chalfont St Peter office is sponsoring this event and would like as many people as possible to take part. It is for an excellent cause, entry to the competition will cost you just a £5 donation to Archie's Journey and the best two entries will each win a cash prize of £100!
To take part or for more details contact jo.swerling@porthaven.co.uk or call her on 01494 917600. Closing date for entries is 6th December 2020. Given lockdown constraints, we won't be able to judge the entries by tasting them, so the residents of Woodland Manor, Chalfont St Peter along with The Frost Partnership, will judge the decorative aspects of the cake only. Get baking!! To support the event please visit www.justgiving.com/fundraising/chalfontbakeoff Archie's Journey
CHARITY REGISTRATION NO. 1174333 Archie is just 4 years old, an identical twin and was diagnosed with Stage 4 high risk Neuroblastoma in January 2019. This is one of the rarest forms of childhood cancers and hardest to cure. Bake Off for Archie is raising funds towards the £230,000 needed to send Archie to the USA for vital treatment which could prevent Archie's chance of relapse. Archie has already had countless courses of chemotherapy and even took part in a clinical trial on the NHS. He is a fighter, a cheeky little chappy, and a very loving and caring child. Any help you are able to offer would be truly appreciated.