Blooming Marvellous Amersham!
Monday, October 28, 2019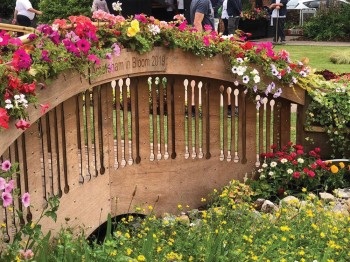 Amersham has again been awarded gold in this year's Britain in Bloom National and achieved an Outstanding Achievement Award. The town also received a National Certificate of Destination for Parks for the Memorial Gardens display and a gold award for the best park in the region. Winning gold at both regional and national level is a fantastic achievement and testament to the hard work and commitment of all involved.
Pete Thompson, an RHS judge who assessed Amersham in July, said: "The Memorial Gardens, surely your finest display ever. The new 'Peace Garden' is a wonderful colourful idea. The effect of the sunken garden with the stream, magnificent wooden bridge, animal sculptures and marvellous colourful walled garden around the edge. Sycamore Corner, such a colourful entrance into the town. What a difference to the previously dull verge."
Darren Share, Chair of the RHS Britain in Bloom judges, said: "Congratulations to all of this year's UK finalists. It's incredibly humbling to hear about the huge efforts they've invested in making our villages, towns and cities greener places to live, work and visit. This makes a tremendous difference locally but has a wider impact too. Gardeners are increasingly having to respond to the changing climate, declining pollinator numbers and plastic waste and more communities are galvanizing people around these issues to bring about positive change."
Congratulations Amersham!!