Spotlight on Ashford – our estate agents view
Thursday, January 16, 2020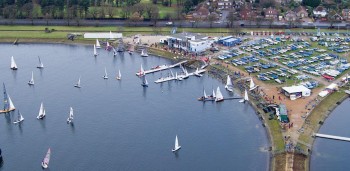 Spotlight on Ashford – our estate agents view: Ashford, Surrey (not to be confused Ashford, Kent) lies 15 miles SW of London. Its history dates back to the Domesday Book as 'Exeford' and the origins of St Matthew's Church to 1293. But Ashford really flourished between 1930 and 1960 as the rural village became the commuter town it is now, with the M25 offering easy access to the M3, M4, M40 and Heathrow Airport. Ashford's mainline station has trains to London Waterloo every 15 minutes or so with a journey time of around 38 minutes.
Ashford has a low unemployment rate with many jobs locally at nearby Heathrow Airport and BP International whose head office is in Sunbury. The Borough of Spelthorne is mainly Green Belt, however, and Ashford is almost completely surrounded by reservoirs, created as a by-product of gravel extraction and now forming part of the water supply network for Greater London. The reservoirs provide open spaces for wildlife, sheep rearing, sports and leisure activities - Staines Reservoir is a bird sanctuary, while the Queen Mary Reservoir is popular for sailing. Queen Mary Sailing Club offers sailing and windsurfing all year round on 700 acres of open water for water sports enthusiasts.
Other local sport and leisure facilities include Ashford Manor Golf Club - an 18 hole parkland course with tree lined fairways and well bunkered approaches to the greens for members and visitors alike. Clockhouse Lane Park has public tennis courts, a basketball court, football pitches and a play area whilst Bedfont Lakes Park offers 180 acres of open space for dog walking and outdoor leisure pursuits. South of Ashford, fields alternate with woodland, across what used to be Ashford Common, a large area of common land which was favoured by King George III for military displays. Shortwood Common (between Ashford and Staines) is still grazed by cattle and contains a designated Site of Special Scientific Interest.
Local pubs such as The King's Fairway, serve traditional British food and real ales. The Kings Head is a welcoming, community pub renowned for its contribution to local charities, live entertainment and substantial food menu. Tripadvisor rates "Indian Ocean" and "Kouchin" which is proud to have won the prestigious 'Best South Asian Restaurant in the London Suburbs' Asian Curry Award for its stylish presentation and delicately flavoured dishes. The town also offers an array of local shops, primary and secondary schools, pubs and takeaway/restaurants with a wider selection in the neighbouring towns of Sunbury, Feltham and Staines.
Visitors to the area can enjoy a number of attractions locally, the most famous being nearby Thorpe Park, one of the UK's premier theme parks known for its extreme rides and rollercoasters. Kempton Park is popular for a day at the races with events throughout the year. Facilities include bars and restaurants, and outdoor markets, Family Days and live music events are also held here. From Walton-on-Thames you can enjoy a boat trip on the River Thames; a return cruise to Shepperton taking in D'Oyly Carte Island. This is an idyllic way to see the picturesque River Thames on a summer's day, passing riverside gardens and stunning houses.
Ashford's excellent road, rail and air transport links, along with the wealth of opportunities to enjoy the great outdoors, make it a hugely popular commuter suburb of London. Yet property remains surprisingly affordable for both families and first time buyers. To see the wide range of properties we have available for sale or to let in and around Ashford, from newly converted apartments to Edwardian cottages and family homes, contact our Ashford office.