Spotlight on Gerrards Cross, our estate agents view
Thursday, March 5, 2020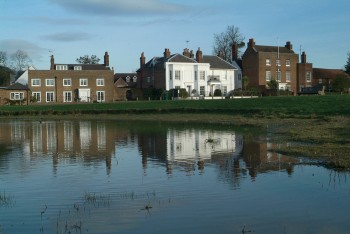 Spotlight on Gerrards Cross, our estate agents view: Gerrards Cross is quite simply one of England's most sought after places to live with a reputation for exclusivity and house prices well above the UK average. So what makes this commuter town so desirable? At first sight it may not appear to have the rich history associated with some of the neighbouring Chilterns villages. Much of its architecture dates from 1906 or later, when the arrival of the railway acted as a catalyst for rapid growth.
Scratch the surface, however, and there is much more to Gerrards Cross than first meets the eye. The Bull Hotel opened in 1688 as a coaching inn for traders travelling between London and the West Country. Properties around the pond on West Common further illustrate the village's rich trading history where elegant housing blends with more modest workers cottages. Bulstrode Park's grade II listed 19th century manor house (previously home to Christian charity WEC International) is a landmark property of historical note and redevelopment plans are in place to create a hotel/spa with conference facilities to rival other high-end hotels such as nearby Cliveden House.
Gerrards Cross has a lively high street with a vibrant mix of independent shops and high street stores, cafés and restaurants. When the railway came to Gerrards Cross in 1906, the town gained a reputation as the 'Brighton of Bucks,' a prestigious rural retreat for the upper classes. Now, with direct trains to Birmingham and to London (Marylebone in under 20 minutes), Gerrards Cross is commuter heaven, well known for a more relaxed lifestyle and more affordable house prices than London.
Factor in some extremely well regarded state and public schools, and you can see why so many families choose to move here. Local grammar schools include Dr Challoner's, RGS and John Hampden, Beaconsfield High and Chesham Grammar and access to the grammar system maintains an upward pressure on house prices. Independent schools such as Maltman's Green, St Mary's, Gayhurst and Thorpe House add to the excellent options available within Gerrards Cross.
There are many open spaces in Gerrards Cross, including East and West Common which are much loved by residents and extensively used for recreation and dog walking. The children's playground is always busy and the football pitch is well used at weekends. The Camp, an Iron Age hill-fort, was acquired by Gerrards Cross Parish Council in 1951 for preservation as an Ancient Monument and provides acres of grassland surrounded by mature trees. Neighbouring Bulstrode Park also has historical connections dating back to before the Norman Conquest and together these spaces create a rich habitat for wildlife. Slightly further afield, award-winning parks include Black Park and Burnham Beeches (ancient beech woodlands owned by the Corporation of London with public access).
The town centre has many amenities; a refurbished luxury cinema, library, shops, restaurants and hotels, namely The Bull and The Ethorpe which dates back to the early 1800s. With an impressive portico front entrance, the hotel's stuccoed villa appearance reflects its early 19th century origins and the affluence of Gerrards Cross. It was subsequently altered in the Arts & Crafts style in the 1920s and is typical of the Edwardian development of Gerrards Cross.
Of particular note is the Memorial Centre; a community centre created to honour the memory of those who died in two World Wars. It has function rooms for public meetings, educational classes and events; tennis and squash courts and acts as a social hub for local residents. It also hosts a spectacular firework display each year.
Gerrards Cross has many quality restaurants, cafes and delicatessen. Top of Tripadvisor's list is Di Paolo closely followed by The Three Oaks (a modern gastropub with excellent Sunday roasts), La Bodega Tapas and Argentinian steakhouse Lomito reflecting the cosmopolitan range on offer.
On close inspection, it's unsurprising that property comes at a premium in Gerrards Cross. The town still boasts many sizeable Edwardian homes but, as with any thriving community, these grand old places are now interspersed with more modern buildings and recently there have been a number of new luxury apartment developments near the village centre.
For more information about the area or to see our full range of properties for sale or to let in this exclusive town please visit www.frostweb.co.uk .