Spotlight on Windsor – our estate agents guide
Thursday, November 14, 2019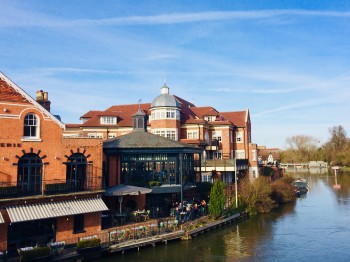 Spotlight on Windsor – our estate agents guide: With a winter chill in the air, Windsor will soon be switching on the most regal Christmas lights display in the country. The Switch on and Lantern procession takes place this Saturday 16th November this year against the backdrop of Windsor Castle and stunning crown jewel themed lighting. Few places can compete with Royal Berkshire's majestic riverside town at Christmas but Windsor is not just magical at Christmas; here are just some of the reasons why Windsor is also one of the most desirable places to live in England all year round.
From royal pageantry and historic landmarks to scenic parkland and the picturesque River Thames, Windsor has it all. The jewel in the crown is of course Windsor Castle, the world's largest inhabited castle and frequently home to Queen Elizabeth II. The castle is right in the heart of Windsor and plays host most days to The Changing the Guard, one of the highlights of a visit to Windsor. The guards march from Victoria Barracks on Sheet Street, up the High Street and into Windsor Castle, usually accompanied by a band and the best place to view the march is on Windsor High Street or on the Corn Exchange under Windsor Guildhall. To see the actual 'changing' ceremony you need to go into the Castle to the Guardroom in the Lower Ward of the Castle. Residents of the Royal Borough of Windsor and Maidenhead have complimentary entrance to the castle with an Advantage Card.
In addition to an excellent range of schools and sports facilities, Windsor is packed with entertainment, shopping and an array of bars and restaurants. If you love to "shop till you" drop then Windsor is just the place! High street retailers, designer labels, antique shops and department stores sit alongside souvenir shops in the converted railway station, in King Edward Court and along Peascod Street.
Foodies are spoilt for choice in Windsor: Across the bridge Cote Brasserie boasts excellent value and river views. Gilbey's in Eton is excellent for lunch or dinner while Marmara is hugely popular with locals and brings a sizzle of the Mediterranean. Tripadvisor lists 181 restaurants in Windsor ranging from the eclectic Test Kitchen to gastropub The Oxford Blue while further afield Bray is home to two three-Michelin-starred restaurants; the Waterside Inn (Roux brothers) and The Fat Duck (Heston Blumenthal).
Windsor Great Park, home to the stunning Savill Gardens, Virginia Water and Valley Gardens covers 5,000 acres and is open all year round to visitors. It offers delightful walks through a variety of landscapes with the lake at Virginia Water, a deer park, Chinese pagoda, royal lodges, Roman ruins and even a North American totem pole. For romantics, a horse-drawn carriage ride is an unforgettable way to see Windsor Great Park or hire a boat for a leisurely cruise along the River Thames.
An iconic view of Windsor is the much photographed Long Walk linking Windsor Castle with Snow Hill where, according to legend, King Henry VIII waited for confirmation of the execution of Anne Boleyn. Double rows of Elm trees were planted along the route by King Charles II creating The Long Walk that we see today. In addition to the thousands of tourists and runners who enjoy the Long Walk, it is also used by the royal family en route to Royal Ascot in June.
There's always something to do in and around Windsor – Legoland (an event in itself) has unmissable fireworks displays during October and November while Windsor Racecourse hosts a year-round programme of concerts, family fun days, antiques and art fairs and, of course, horseracing. The Theatre Royal Windsor opened in 1910 and has delighted audiences ever since with new productions (minus the London price tag!) before they hit the West End. There's also an excellent traditional pantomime every Christmas.
Windsor is often centre stage for global events with international audiences and it's easy to see and appreciate its attraction. For information about properties within the town or to find out what your property is worth in the current market, contact our office in Windsor or see all our available properties at frostweb.co.uk.