Twin towns
Friday, June 15, 2018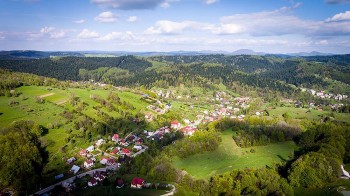 With the World Cup underway and continuing our international theme, town twinning in Europe dates back to AD 836 but, as a modern concept, really developed after WWII to foster friendship and peace, encourage trade and tourism and more recently to establish international business links. For example, Coventry twinned with Stalingrad and later with Dresden as an act of peace, all three having been heavily bombed during the war. Twin towns are often chosen because of similarities or shared interests; Oxford for example is twinned with other university cities. In June 2012, Dull (a Scottish village) and Boring in Oregon, USA twinned. Along with Bland in Australia, the three have joined forces to make fun of each other and to promote tourism!
Many twin towns have similar demographics, geography, history and size. So what do we know about the twins in our network? Amersham, Buckinghamshire is twinned with Bensheim in Germany and Krynica-Zdrój in Poland. The similarities with Bensheim are apparent; Bensheim is a historic market town with timbered buildings dating back to 1395, and a newer town area. Vineyards east of the town lead into the wooded hills of the Odenwald – picturesque walking country like the Chilterns – yet the town benefits from excellent rail links and boasts superb schooling options comparable to those offered by Amersham. Krynica, Poland is also surrounded by wooded hills, but similarities with Amersham are less obvious. It is one of the largest health resorts in Poland famous for its local mineral waters and a favourite mountain holiday spot for hiking, skiing, snowboarding and horse-riding.
It's said that opposites attract and this may well be the case for twinning Slough, Berkshire with Montreuil-sur-Mer in the Pas-de-Calais region of northern France. Known as the Carcassone du Nord, it's a charming walled town and a perfect destination for a weekend away. The town oozes character, with cobbled streets, 13th century ramparts and was once a seaside town. Due to silting, it now finds itself 10 miles inland. In contrast to powerhouse Slough, business and economic development are not high on Montreuil's agenda and whilst Slough has attracted massive infrastructural investment and a striking facelift with the development of Crossrail, Montreuil revels in its status as a "ville fleurie", with a riot of flowers throughout the town.
Despite having little in common, Spelthorne Borough Council decided to approve the twinning of Staines-upon-Thames with the exotic location of Grand Port, Mauritius after mayor, Simon Bhadye, returned from a holiday in 2009 on the paradise island, where he was born. He insisted that twinning the borough with Grand Port Savanne District Council on Mauritius would benefit both places with the chance to "exchange knowledge, information and ideas around democracy, economic development and waste management." Spelthorne residents perhaps gain more from proximity to Heathrow airport in terms of the excellent employment opportunities it offers rather than ease of access to international travel to Mauritius, with palm-fringed white sand beaches, over 6,000 miles away!
The Royal Borough of Windsor and Maidenhead is twinned with six European towns; Neuilly-sur-Seine and Saint-Cloud, France, Bad Godesberg and Goslar, Germany, Frascati, Italy and Kortrijk, Belgium, to broaden mutual understanding of the cultural, recreational, educational and commercial activities of the partner towns. With its former palace and parkland and proximity to the capital, Saint Cloud has clear parallels with Windsor and was home to Napoleon Bonaparte, Emperor of France in the 19th century. Since 1992, the Old Town of Goslar has been on the UNESCO World Cultural and Natural Heritage List reflecting a similar history and culture to the Royal Borough. Frascati, near Rome, is an attractive historic hill town best known for clean air, rich regional food specialities and, of course, the local white wine. Both Goslar and Frascati have given their name to roads in the Royal Borough.
Whatever the rationale behind twinning, it encourages towns to broaden their horizons and explore the wider world. Hounslow demonstrates this with the most cosmopolitan set of "twins" in our area encompassing Issy-les-Moulineaux in France, Lahore – cultural capital of Pakistan and Ramallah in Palestine, a real opportunity to embrace the diversity of culture, politics and religion, exchange ideas and foster friendships across the globe.