Village vibes
Tuesday, March 13, 2018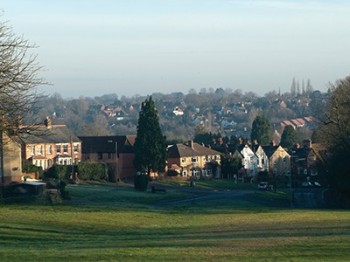 Think of the phrase "Best Kept Village" and you immediately picture brightly coloured flowers and bunting but there's much more to it than hanging baskets and summer fetes. Over and above neat flower beds, judges look for evidence of community spirit. Chalfont St Peter clearly offers all this and more, having won Best Kept Village in 2014 and 2015's Tindall Cup, (a "cup winners cup" open only to villages that won their category the previous year). Visitors to the village find it welcoming, with mainly small, independent shops and a strong tradition of customer service.
Whilst there's often a physical "centre" to a village, such as in neighbouring Chalfont St Giles with its idyllic village green and duck pond, the heart and soul of a village lies in its community spirit and sense of identity. Often, in the UK, the village idyll comes at a price with locations remote from the nearest town and basic, modern amenities. However, the villages in Frost's network area across Buckinghamshire, Berkshire and Middlesex are blessed with the best of both worlds; tranquillity and easy access to motorways, rail links and London Heathrow, and no shortage of local amenities.
The Domesday Book of 1086 records 'Stanwelle', now a suburban village in the borough of Spelthorne, The parish church is a Norman building with a 14th-century Gothic chancel and houses monuments to members of the Knyvet(t) family who bought Staines Manor after helping to foil Fawkes' Gunpowder Plot. The village centres upon a small green still largely surrounded by houses of the 19th century or earlier including the Vicarage and Brook Cottage, both 18th century, and Dunmore House. Despite its proximity to Heathrow, Stanwell has managed to retain much of its architectural heritage and its village atmosphere.
An hour's walk along the Thames from Eton lies the quaint village of Dorney, with 17th century brick and timber cottages. Dorney Court was built in the 15th Century, a Tudor Manor House which has been in the Palmer family over thirteen generations since 1624. The very first pineapple in the UK was grown on the Palmer Estate and presented to Charles II in 1661. Dorney is the ancient Saxon word for 'island of bees' and the estate is also famous for its honey which is still produced and sold there today. Fast forward to 2012 and you find Dorney's Olympic rowing lake, where you can park for free and walk, bike or scoot around the 2.2km-long shoreline. Dorney Common is a large traditional grassed common, and an SSSI which offers panoramic views to Windsor Castle.
Wraysbury enjoys all the benefits of village life yet lies within a 5 minute drive of the M25. Its quirky windmill, easy access to watersports on nearby reservoirs and riverside walks along the Thames are particularly appealing for an outdoor lifestyle with close proximity to the capital. There's a vibrant community spirit and village events such as the Christmas carols evening are always well attended. Nearby Colnbrook village's traditional coaching history has left three coaching inns including The Ostrich, the third oldest in England, which dates back to 1106.
Often described as "the prettiest village in South Bucks", Fulmer has won a Best Kept Village award many times. The village's name is derived from the Old English for "lake frequented by birds" and the village is an oasis of rural calm and country walks, a short drive from award winning Black Park and Pinewood Studios. Film stars and extras are often spotted at the local pub, The Black Horse in the heart of the village. The village church dates from 1610 and is dedicated to St. James, patron saint of sailors - hence its ship weather-vane. With Green Belt protection, Fulmer's charm and character should be preserved for centuries to come, along with its vibrant community spirit seen at annual village events, including Fulmer Day in June.
Ley Hill is a small rural village lying on the Bucks/Herts border near Chesham. It has an active village community, with events held throughout the year, including the annual village produce show. Most of the village common is used as a 9-hole golf course by Chesham & Ley Hill Golf Club and there are many routes for walking or bike rides through woods and fields, encouraging an active outdoor lifestyle. One of two village pubs, The Swan was built c. 1520 and is reputedly one of the oldest pubs in Buckinghamshire. During World War II Clark Gable and James Stewart were frequent visitors from Bovingdon airbase and signed photographs were displayed in the bar for many years.
A wide variety of housing stock and amenities means there's something for everyone in these and many other lively close-knit village communities across our network. If you're looking for history, heritage and a village vibe, see frostweb.co.uk for our complete portfolio of properties to buy or rent or call your local Frost Partnership office for more detailed local information.