Congratulations and Happy Birthday
Thursday, July 16, 2020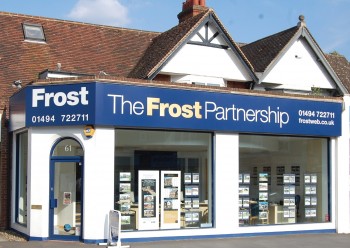 Congratulations and "Happy Birthday" to two of our offices – Amersham and Chalfont St Giles - which this week celebrate their 20th anniversary while The Frost Partnership (as we know it today) celebrates 30 years having been founded in 1990. The Frost name in property goes back over a hundred years and through four generations to 1906.
The opening of The Great Western and Great Central joint railway line in 1906 marked the beginning of A.C. Frost & Co., founded by Alfred Frost, a surveyor in London. Recognising the potential business opportunity the railway would bring to the area, he opened his first office in Gerrards Cross followed two years later with Beaconsfield. In 1986 with over 30 branches throughout The Chilterns, Thames Valley, Middlesex and Surrey an opportunity arose to further expand the original business through the corporate involvement of Prudential plc.
In 1990, the current Frost Partnership was formed by Managing Director, John Frost and senior members of the original business who combined their wealth of experience to create the fully integrated, modern, successful agency it is today. Whilst these are challenging times, there is still much to celebrate; an award winning network of 15 local offices, The Frost Partnership has again been independently assessed as being one of the top 3% estate agents in the country by The Best Estate Agent Guide 2020.