Making a new house your home
Monday, July 8, 2019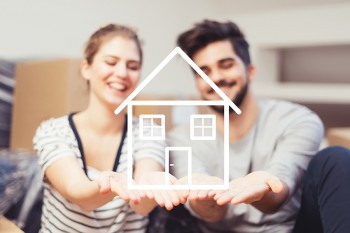 With well over 100 new homes properties listed with our 15 office network qualifying for London 40% or outer London 20% Help to Buy schemes, there's a wide choice available for first time buyers looking to buy a new home. New build is a great option to consider whether you're a first time buyer, have a growing family or are downsizing in later years. And, whilst older properties may boast character, additional space and an opportunity for buyers to develop and renovate, new homes or conversions are proving to be increasingly popular at all stages on the property ladder, by providing a brand new blank canvas that is energy efficient, requires little maintenance and is ready to move in to.
With leisure time at a premium, particularly for younger buyers, over 80% of house hunters are just not prepared to buy a property that needs lots of work and over 30% of buyers will only look at new builds, according to research by Gocompare.com. Even those who actually prefer the character and space of older properties can be daunted by a property that needs renovation because they just do not have the time or the money to tackle a "project".
New Homes buyers enjoy the knowledge that they will be the first to live in the property, the first to use kitchen appliances and pristine bathrooms. There is also the additional benefit of knowing that you can move into a new home as soon as it is finished, without having to wait for existing owners to move out. Being "chain-free" reduces the stress and anxiety that is often associated with moving.
Investors often appreciate what new homes developments can offer - the latest property designs, up to date technology, building materials, style and home comforts as well as coming chain-free. Whether you're buying a New Home to live in yourself or to rent out, there are many additional reasons to buy new.
New homes are often designed with contemporary living in mind from luxuriously fitted bathrooms and en-suites to kitchens with brand new appliances and open plan living space. They make efficient use of space while indulging lifestyle trends such as multimedia/cinema rooms. By reserving a new home in the early stages of a development you may be able to select your own fixtures, appliances, flooring and paint. In some cases you can even amend the layout to suit specific requirements such as a study area or walk-in wardrobe.
Built to the very latest designs, new homes incorporate contemporary building materials, modern technology and state of the art components such as high-tech security systems, underfloor heating and smoke alarms. State-of-the-art circuit breakers, fire resistant materials, smoke alarms, high-tech security systems and electric entrance gates, offer greater protection for new homes from fire and theft than older properties, providing greater peace of mind, as well as a potential reduction in insurance premiums. A new home also offers reassurance to buyers with long-term guarantees, such as the 10 year Buildmark warranty that is provided by the National House Building Council.
With all the latest technology, new homes can be far more energy efficient; some use renewable energy sources while others incorporate energy efficient materials such as triple-pane windows, skylights to improve natural lighting and modern insulation that saves on heating. Today's new homes are not only better for the planet but also cheaper to run. They generate on average 60% less carbon dioxide emissions than older homes and can reduce utility bills by as much as £500 a year.
In short, New Homes are a good option all round but may come at a premium so should be viewed as a medium to long-term investment. Property prices do fluctuate but buying a new property will at least help to keep ongoing costs to a minimum with lower utility bills and maintenance required. Also, in the current marketplace, demand for newly built homes is likely to ensure a smooth resale, making them an attractive proposition. Many developers are currently offering incentives, such as free furnishings, a contribution towards legal fees or stamp duty to enhance their appeal.
If you're a first time buyer looking for help to get on the property ladder, talk to your local Frost office for details of homes that qualify for London 40% or outer London 20% Help to Buy schemes and expert advice on how you can get on the property ladder. The government's Help to Buy equity loan scheme gives buyers the chance to purchase a new home with as little as a 5% deposit making house purchase more accessible.
The Frost Partnership is a leading New Homes estate agent network offering high quality properties from reputable local and national developers across Buckinghamshire, Middlesex and Berkshire. For more information on New Homes or to see a selection of the latest new properties we are currently marketing across our network click here.