Sales reservations go 'at the double' for Ash House in Staines
Tuesday, March 17, 2015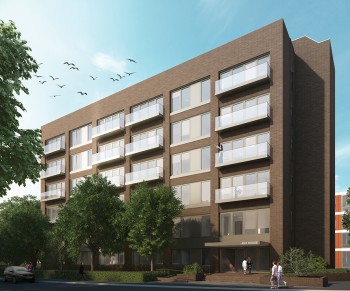 Ash House in Staines is selling out in record time with 40% of the development reserved off-plan in the first 6 weeks. A number of these sales have been from purchasers reserving 2 apartments at a time, before the official launch.
According to Jeremy Boyle, Associate Director for The Frost Partnership, a number of investors have committed to purchasing 2 apartments, one for private ownership and the second for a buy-to-let investment. He says, " In the 12 years that I have been working on new developments with The Frost Partnership, this is the first time that we have had so many buyers interested in 'double purchasing' – one for their own private use and a second as a property investment. Usually investors like to spread their portfolio across a number of developments to minimise risk. Ash House is clearly seen as an exceptional opportunity. The apartments are spacious, beautifully presented and most offer out door space with a lovely balcony. Exceptional parking facilities include an allocated parking space for a one bedroom apartment, and two parking spaces for the two bedroom apartments, all of which are located in a private multi storey car park behind Ash House. Its location is so convenient that it takes five minutes to walk to Staines Railway station and all of a minute to the High Street.'
"Since the official launch, we are delighted to announce that a total of 17 reservations have been made out of the 30 released so far from the 41 apartments available, with a few more potential reservations in the pipeline. Prices for Ash House start at £230,000 for a one bedroom apartment and £290,000 for a two bedroom apartment. Rental prices will vary from £950pcm to £1,350pcm respectively, and we predict the gross yield will range from 4.75% to 5.2%."
For a brochure and any further information, please contact The Frost Partnership's Staines Branch on 01784 464606. Both our sales and lettings department will be happy to offer their advice and discuss your requirements. Visit the branch page for our Staines Estate Agents for further information.