Spotlight on Feltham – our estate agents guide
Tuesday, October 15, 2019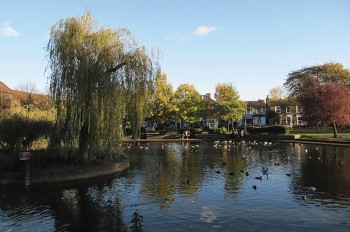 Spotlight on Feltham – our estate agents guide. At first glance Feltham may be just another Greater London suburb but look closely and you can find a rich history, culture, open spaces and a community where residents overwhelmingly identify their home county as "Middlesex". First recorded in the Domesday Book as Felda, then Feldham meaning "home in a field", Feltham has rural roots that continued with market gardening well into the twentieth century. A devastating fire back in 1634 destroyed most of the parish buildings but the foundations of St Dunstan's Church (rebuilt in 1801) date back to the 12th century.
The coming of the railway in 1848 accelerated expansion of the town northward and a proper High Street emerged with an array of shops and services. In 2006, The Centre, a shopping, leisure and residential complex, opened in the heart of the rejuvenated Feltham. Extensive parking, rail and bus access and over 60 stores, cafes and restaurants offer a fantastic retail experience for the Borough of Hounslow. Feltham train station is currently being upgraded by extending both platforms to give step free access from platform to train making travel even easier.
For well over a century, Feltham has been associated with land and air transport; tramcar and aircraft manufacture was important to the local economy and Feltham was targetted by German bombers during WWII as a result. Aston Martin had its main factory in Feltham from 1926 -1963. Today the largest local employer is Heathrow Airport and many local businesses particularly those in logistics, serve the needs of the world's busiest international airport by passenger volume.
Tripadvisor's lists over 50 restaurants in Feltham and the top 3 boast multiple Certificates of Excellence and reflect the diversity of global cuisine on offer : Namaste Gurkha - a Nepalese and Indian restaurant, Banh Mi 108 - a small Vietnamese restaurant with a simple but varied menu and Gurkha Durbar - an upscale Nepalese restaurant with a range of "tandoori" oven dishes and exotic curries.
Feltham offers a choice of open spaces with Hounslow Heath to the east, the award winning Bedfont Lakes Country Park with 180 acres of lakes, woodlands and rolling meadow and one of London's first airfields, London Air Park at Hanworth, which has lawns surrounded by trees and a large and sports-oriented public area. Hanworth Park House was originally used as a hunting lodge by Henry VII and Henry VIII and was known as Hanworth Palace. In 1797 a fire completely destroyed it, and it was rebuilt as Hanworth Park House in 1802. Having fallen into disrepair, funds are now being raised to restore it to its former glory. You can also find a wealth of history, culture and spectacular grounds at Hampton Court Palace and Maze, Ham House and Osterley Park all within a 5 mile radius. Open daily, Hounslow Urban Farm is one of London's largest community farms and is a fun family day out. There's a wide range of animals to feed including goats, cows, rabbits, alpacas, chipmunks and rheas, and the highlight is weekly pig racing.
Sports facilities are excellent both at Feltham Community College, where triple Olympic gold medallist Mo Farah once studied, and Rivers Academy West London. Further indoor and outdoor sports and leisure facilities can be found at Hanworth Air Park Leisure Centre and Leisure West - a privately run entertainment complex with multiplex cinema, tenpin bowling alley, bingo club and restaurants.
In 2009 a Hollywood-style granite star was erected in Feltham's town-centre piazza, to commemorate famous former resident Freddie Mercury (1946–1991) lead vocalist of rock band Queen. Other famous Feltham residents have included Jimmy Page, legendary guitarist with Led Zeppelin and actor Derek Martin, best known as Charlie Slater in BBC's EastEnders.
Feltham Arts Association fosters community participation in creative activity, celebrating culture and providing opportunities for all. This was a special year for Feltham Festival, an annual event which celebrated its 30th year, showcasing exciting emerging local artists, music, variety shows, visual arts and high quality community arts.
There's a diverse range of property available in Feltham from late victorian houses with period features to contemporary new build homes. Its location in prime commuter territory, road and rail access and proximity to Heathrow also make Feltham ideal for buy-to-let investment potential. For more information about the area or to see our properties for sale or to let in Feltham please visit frostweb.co.uk .