Time to Move!
Friday, May 20, 2022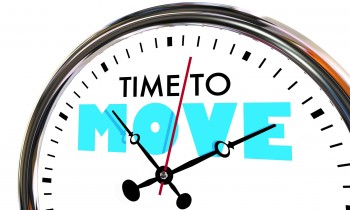 Spring has sprung into action and the UK's property market continues its story of rising prices fuelled by buyer and tenant demand for properties. The Royal Institution of Chartered Surveyors' most recent market sentiment survey of the lettings market suggests that rent rises will continue through summer and into future years too. Its report says: "All regions are anticipated to see further material increases in rental prices over the next three months. Over the year ahead, rents are expected to rise by approximately 4% while five-year projections sit at around 5% per year through to 2027."
Rightmove's quarterly market report highlights the imbalance between tenant demand and low numbers of available rental properties as a driver for growth in asking prices for rentals. Nationwide, tenant demand is up by 6% while the number of available rental properties is 50% lower than this time last year. Tenants are faced with the most competitive rental market that Rightmove has ever recorded with landlords often able to choose between several suitable tenants.
Perhaps reflecting this, for the first time since July 2020, landlord instructions have increased. The number of new rental properties coming onto the market rose by 5% in March compared to January, and 16% compared to the shorter month of February. Rightmove's director of property data Tim Bannister says: "In the first three months of this year, we've seen tenant demand exceed the high levels set last year, which when coupled with the fewer available homes for rent, has resulted in the most competitive rental market we've ever recorded."
Tax and regulatory requirements may make letting a property more onerous for less immediate reward, however, with rising house prices, buy-to-let remains attractive to investors over the medium to longer term. A wide range of financing opportunities are available for buy to let landlords, whether purchasing or refinancing a rental property, and despite recent interest rate rises, borrowing remains comparatively low.
Government rules state that by 2028 all rental properties must have achieved an EPC rating of grade C or higher and whilst that may seem a long time away, many buy to let investors are increasingly keen to upgrade their properties to make them more energy efficient. In doing so they can perhaps help their tenants to reduce the impact of high energy costs on the cost of living and add value to their property as a result.
Landlords should be aware of and plan for forthcoming changes to the Smoke and Carbon Monoxide Alarm Regulations which could come into effect as soon as this Autumn. Under current rules, landlords need to ensure that a smoke alarm is fitted on every floor of their property where there is a room used wholly or partly as living accommodation. They also must put a carbon monoxide alarm in any room where a solid fuel is burnt, including wood, coal or biomass and including open fires. Key changes to the rules will ensure parity across tenures and the inclusion of gas appliances. The changes also introduce an obligation on private landlords to repair or replace any alarm which is found to be faulty during the period of a tenancy, not just at the start. If you require any advice on compliance with this or any other lettings regulations, please call your local Frost office and we will be happy to offer professional advice.
The residential sales market is similarly characterised by buyer demand outstripping supply, but the good news for buyers is that there is some evidence of improving supply. The number of new homes listed for sale in March rose for the first time in a year, according to RICS Residential Market Survey. RICS Chief Economist, Simon Rubinsohn, commented, "Despite mounting concerns about both the macro environment and the war in Ukraine, for now the RICS survey shows the housing market remains resilient. Rising interest rates have begun to push up the cost of mortgage finance, but debt servicing remains low in a historic context.
Consumer confidence in the housing market remains buoyant despite the cost-of-living crisis, according to OnTheMarket. Jason Tebb, CEO of OTM, reported that "March saw an uptick in new listings coming to the market as we'd expect in the run-up to Easter, particularly large, detached family properties. However, as well as those who may have recently made the decision to move this year, there remains strong pent-up demand from buyers who are keen to rectify missing out on a move in the past 12 or even 24 months.
"New listings aren't hanging around for long" and Tebb urges buyers to be "organised, bold and decisive" if they are serious about moving, especially with demand likely to outweigh supply for a while yet. "Delays in committing to a purchase could mean the market further runs away from them, or at the very least buyers will suffer from the disappointment of missing out on their chosen property," he added.
Rightmove's April report shows that properties are both selling faster than ever and either at or above asking price, in many cases. In April 2019 the average time to sell was 67 days. It now stands at just 33 days before a property is marked as sold subject to contract on Rightmove. Nationally, properties are achieving on average 98.9% of the final advertised asking price, the highest since its records began.
Tim Bannister, director of property data for Rightmove, says: "It can't and won't continue like this, but with the demand and supply imbalance being so out of kilter, it looks like any substantial slowdown will be gradual in coming and be a soft rather than hard landing." He continued, "The high speed of the market and competition among buyers when making an onward move will be deterring some owners from putting their homes up for sale. However, if you can secure both a quick sale and a quick purchase then it's a lot less stressful than the uncertainties of a slower market when finding a buyer for your own home can drag on for months or not happen at all."
Whether for Sales or Lettings, if you would like more information about the property market in your local area, please contact your local Frost office and speak to our professionally trained team of property experts. We are happy to advise on all property matters and offer a FREE market appraisal of your property so that you can make an informed decision about your next move.