After Life in Beaconsfield
Friday, February 11, 2022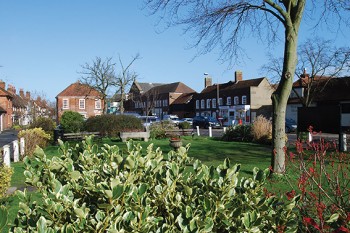 If you've been avidly watching the latest series of After Life, you may have caught glimpses of the old town of Beaconsfield neatly stitched together with scenes from Hampstead, North London, Hemel Hempstead in Hertfordshire, and Camber Sands in East Sussex which combine to form the fictional town of Tambury. Several scenes from the series were filmed in Beaconsfield. The care home is set in the Old Town's Register Office, whilst the graveyard scenes are set across the road in the Old Town by St Mary and All Saints Church.
Two annual Beaconsfield events reflect the cultural diversity that the town embraces. On May 10th each year, the Old Town's genteel Georgian architecture collides in a time warp with loud music, laser lights, and the aroma of diesel and hot dogs when Beaconsfield Fair comes to town! It's a centuries' old tradition; contrasting with relative tranquillity for the rest of the year, when you can enjoy the array of cafes and restaurants offered by both Old and New Beaconsfield alike. In June the Chiltern Shakespeare Company's festival takes to the stage. Set in acres of parkland Hall Barn offers the perfect location for a picnic by the lake before the open-air performance.
Tripadvisor lists 51 restaurants in Beaconsfield with cuisine from all around the world. The top 10 currently includes The Greyhound Pub and Dining, "No.5", a locally owned, modern British eatery in the heart of Beaconsfield Old Town, The Cape, a quirky cafe with a South African twist in the new town and Brasserie Blanc.
The Chilterns area is well-known for its picturesque scenery with rolling chalk hills and beech woodlands and a large part was designated an AONB in 1965. Film and television location finders are drawn to the area by its beauty, historic architecture and by proximity to the studios located in Beaconsfield itself and at Pinewood in Iver.
Residents of Beaconsfield enjoy the benefits of excellent schools and transport links providing a quick commute into London, easy access to Heathrow and the motorway network. Beaconsfield offers an enviable lifestyle for families and individuals, just 25 minutes from London by train and in the heart of stunning countryside. It's not surprising that property comes at a premium!
For more information about the area or to see our properties for sale or to let in this area please visit frostweb.co.uk.