Character Building
Thursday, March 16, 2017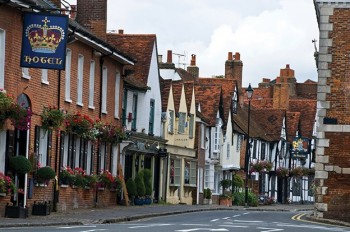 From thatched cottages to barn conversions, if you buy a listed building, you're not just buying a new home, but a piece of national heritage. With a sympathetic approach you can create your dream home but the process may be time consuming, expensive and comes with potential pitfalls. From décor to garden design, everyone wants to make their mark on a new property but if it's listed you need to understand exactly what's involved from the outset. Any alterations without proper consents are a criminal offence which could cost thousands to restore.
Planning permission can be difficult, but not impossible. Around 90% of applications are approved but some modifications, such as double glazing are a problem. It's important to work with planners, architects and engineers and to be realistic about what you want to achieve. The Listed Property Owners' Club provides advice on everything from permitted architectural changes to VAT planning while the Historic England website has current planning advice. Consult experts with specialist knowledge of the relevant architectural period. You may qualify for grants and VAT reductions on building works so it's worth seeking advice. When appointing tradesmen, look for experience of work with historic buildings. They should choose appropriate materials and techniques and understand the legal implications of any work done.
Period houses have much to offer, often having larger rooms, and generous gardens. Original features such as windows, fireplaces and floor tiles, add a wealth of character and charm. Before furnishing your property, research its history as a starting point for interior design. Listed buildings present both challenges and opportunities; you can create an authentic period design or a stunning contemporary interior. Either way, the design should be fit for purpose and sympathetic to the building's history.
Giving a period property a modern feel – without destroying its antique charm – is a balancing act. Simplicity is the key to successfully blending old and new. Stick to neutral tones with accent colours, choose textures and finishes that combine well and maximise any light using shiny or transparent surfaces. Don't be afraid to use modern lighting as this can enhance architectural features and highlight a beautiful ceiling or wall panel. Classic furnishings with a contemporary twist bridge the old/new gap perfectly, while a beamed bathroom with contemporary fittings and freestanding bath gives a feel for the building's heritage without looking out of place. Try to echo shapes already found in the architectural detailing and use glass or Perspex to create a modern, uncluttered look in keeping with a period interior. Architectural salvage yards are a good source for replacing radiators, stonework and architectural features.
Don't rush into anything. It's a good idea to live in a house during different seasons before making any big decisions. Above all, enjoy your listed home, but be a considerate guardian - in the context of a 300-year old history your time there is a mere snapshot!