Get outside!
Wednesday, March 18, 2020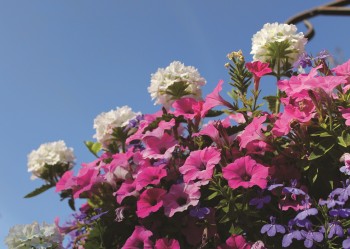 Should you find yourself with time on your hands, having been advised to stay at home, you may be thinking it is time to get outside! It may not feel like it just now, but spring is here and the days are set to get warmer and the evenings lighter. Fresh air and exercise can help you to stay healthy and an hour or so in the garden offers both. It might be the right time to think about getting your garden ready for summer and making it a peaceful place to relax when warmer weather arrives.
However small your garden is, even if you only have a small patio, balcony or roof terrace, you can create an almost instant transformation with planted tubs, furniture and accessories that you can enjoy all year round. And, with some careful thought, if you're thinking of moving and are preparing your property for sale or are currently renting a property, it doesn't need to blow the budget or be permanent. Here's some inspiration and ideas to get you started.
Use March and April to get planting and pruning organised so that by the time summer arrives, you can sit back, relax and enjoy your garden. The Royal Horticultural Society has really good advice for jobs to do each month and the current top 10 includes planting summer-flowering bulbs, lifting and dividing overgrown clumps of perennials and mowing the lawn on dry days. It's also a good time to get winter weeds under control, protect your plants from late frosts, sow lawn seed and repair any bare patches. National Gardening Week is 27 April - 3 May and if you're an amateur gardener, you'll find lots of advice on planting for minimum maintenance and maximum enjoyment with fragrance and colour for impact.
You could start by creating a designated space for outdoor entertaining. Buy or hire a power washer and give your terrace or deck a thorough clean. Then re-invent the look, starting with some outdoor dining furniture. If you can afford to replace what you have there are plenty of new looks to choose from or you could just refresh existing furniture with a new coat of paint; there's a great range of colours to choose from. Enclosing your space with trellis panels and large potted plants will give you privacy and make it feel like an extra room.
Let your creativity run wild transforming an existing garden shed or summer house into a functional space for relaxing. Paint, lighting and some well-chosen accessories will create a den for the kids to chill or somewhere to relax and unwind with friends.
Good lighting makes all the difference for the evening. A mix of outdoor lanterns, low voltage and solar lights can create a magical place after dark. If you have the space and the budget, add a water feature or a fire pit to enhance the WOW factor and add some warm wraps and soft cushions for comfort.
Whatever you do to transform your garden, make sure it is something that you and your family will enjoy. Garden improvements may make your property appeal to more buyers or tenants, but they may not actually add to the value of your home, so it's worth checking before you invest significant money in any permanent items. For more advice on how to add value to your property, outdoors or in, contact your local Frost Partnership office. Then get outside and enjoy some fresh air!