Home is where the heart is
Friday, February 12, 2021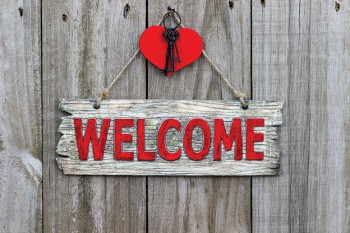 With love in the air for Valentine's Day this weekend, if you are mid-property search and not finding THE ONE, it may be worth looking at things afresh and, with a little TLC and inspiration, you just might find your dream home. Look again at properties you have viewed. What did you love or hate? Could you change things you didn't like? Could you replicate something you loved about one house in another property? Or could you just fall in love with your own home all over again?
For many people the kitchen is the heart of the home; warm, welcoming and potentially the perfect place to add value if you are updating. Whether you are an amazing chef or a "beans on toast" cook a well- designed kitchen can be a great asset. Whatever your budget, planning is all important to make your investment pay dividends. A good kitchen can last decades so it is vital to get it right. Consider storage, light and workspace in the final layout and a style that will really stand the test of time.
If you prefer to relax than spend time in the kitchen, consider how new colour schemes would work for the living room or bedroom; 2021 will continue to see the influence of nature in décor trends and Dulux Colour of the Year- Brave Ground - confirms this; a warm, earthy tone that provides the foundation for change and creativity in your home. Natural materials and textures such as stone, copper, concrete, and granite bring an organic, calming effect on interiors. Once seen as old fashioned, velvet is thought to be luxurious and stylish.
Whether you are renting or thinking of moving, lighting is an easy, high impact way to brighten up your home and you can take it with you when you leave. Table lamps, down lighters, fairy lights or even candles can be used to great effect turning a bland space into something special or highlighting a particular area for decorative purposes.
Plants and flowers are an easy way to add heart and soul to your home and can make it smell divine! If you are not green fingered, you can fake it with quality artificial flowers and plants or buy virtually indestructible succulents and cacti! And, with spring just weeks away, now is a good time to lavish some attention outdoors. For some, the garden is the real heart of a home, planting itself firmly in your affections for the warmer days ahead. Clear leaves away from early snowdrops and crocuses so you can see these flowers emerge and treat sheds and fences with preservative or paint for a new look.
Whether it's a new kitchen or a lick of paint indoors or out, a little effort goes a long way towards turning an uninspiring property into THE ONE. So take a fresh look and see if some inspiration and TLC could help you find your dream home. To see our full range of properties to buy or to let in your area visit www.frostweb.co.uk.