International style without leaving home
Friday, April 16, 2021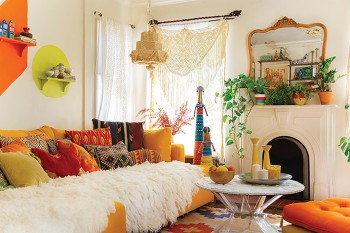 At a time when international travel is restricted by the pandemic, our desire to travel is probably at its peak. Most would jump at the opportunity for some sunshine and sightseeing in far flung places. However, whilst some things are better enjoyed in their native country, you can be inspired and create an international vibe at home. Everyone has a dream destination, so create your own corner of Italy, South America, Asia or wherever with colour, patterns, textures and accessories and let your imagination take flight.
Indulge a passion for pattern and be inspired by a host of ideas from around the world from Aztec prints to Asian-inspired designs and tribal symbols in earthy tones and jewel bright colours. Work global motifs into throws, cushions and blinds. The addition of statement pieces, rich rugs or handmade ethnic tapestries will take you back to memories of your travels at a glance.
Moorish design is famous for its use of geometric patterns and nothing conjures up Morocco better than authentic patterned tiles in bright blues and white with splashes of colour. Merge styles and cultures with a Moroccan print tiled splashback as a focal point in a white, minimalist Scandinavian kitchen.
Your choice of furniture can begin to set the theme of a room with the décor then following suit. Low seating has always been a part of middle-eastern interior décor and can be used in a cosy lounge area with colourful pouffes and low coffee tables. Add ornate rugs - a hallmark of Middle Eastern décor – and lanterns to recreate a Marrakesch look.
If your style is more minimalist, ditch the clutter and choose Japanese design which focusses on tranquility with understated ceramics and delicate, hand-painted pottery in traditional shapes and colours. Or visit Scandinavia for clean, design lines, simple palettes including black and white and the use of calligraphy in pale, elegant interiors.
South America provides a wealth of inspiration from Brazil's carnival culture to rainforest hardwoods, whitewash walls to neon Aztec textiles. Start in the dining room with a white wall canvas and build from there, adding simple wood furniture then a riot of colour in accessories and even exotic plants or flowers in terracotta or glazed pots.
Closer to home, there's plenty in Europe to spark your decorative imagination. With high ceilings, pale décor and ornate gilded mirrors you can reflect a Parisian salon or get into Italian spirit with luxury silk and velvet soft furnishings and colourful Murano glass.
You are bound to have souvenirs from previous trips to accessorize the look, but if you're in need of inspiration you can always scour the internet for international style without leaving home.