New looks for interiors whether you are moving or renting
Thursday, January 21, 2021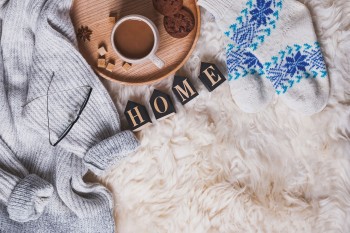 If you are moving to a new home or just looking to refresh where you currently live, now is a great time to do it. The new year gives us all the momentum for a spring clean and a chance to look at things afresh whether buying, renting or staying put. Some may see renting as a barrier to this, as restrictions may limit what you can do, but all it takes is a little inspiration to transform your home from bland to beautiful without upsetting the landlord and without splashing cash you will not get back if you are moving.
Work with the existing style of your property. If it is a period property, furnish and accessorize according to the structure and appearance of the home. A lick of paint can dramatically change the look of any room and is a good starting point if you want a new look. Dulux Colour of the Year for 2021 is Brave Ground™, a warm, earthy tone, which provides a firm foundation for change and creativity in your home. If you are renting, your tenancy agreement will undoubtedly contain some restrictions, but some landlords might allow you to redecorate, particularly if you agree colours in advance.
New lighting can really make a difference and brighten your home. You can take it with you if you are moving and it is a high impact, low-cost way to create a new look for a room. Table lamps, downlighters or even candles can turn a bland space into something special or highlight a particular area of the room. Trends for 2021 include the use of cleverly designed ceiling lights and sculptural lamps as a focal point to make a bold design statement rather than being purely functional.
If you are planning to move but want to ring the changes now, and take advantage of Spring sales, invest in furniture that you can take with you. This is also a good idea if you are renting. Modular furniture can be moved around and reconfigured and is easy to remove at the end of your tenancy. Whilst there are no hard and fast rules on colour and style, a muted range of vanilla, mint, grey-green and warm grey will provide a soft "neutral" background which you can accessorize with splashes of colour to reflect your character.
Inject new life into your décor with colour and texture. Brightly coloured rugs, cushions and chunky throws add personality with minimal effort or cost. Textiles are the easiest, quickest way to make your house a home. Replace ugly curtains for an instant uplift and choose covers and throws to instantly change the look of a bedroom. Again, these are items which you can take with you when you move so well worth the investment. For more ideas click here.