Spotlight on Beaconsfield – our estate agent's view
Friday, August 11, 2017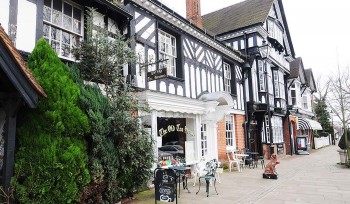 Two annual events in Beaconsfield's calendar reflect the diversity that the town embraces and celebrates. For one day only, on May 10th each year, Beaconsfield Old Town's genteel Georgian architecture collides in a time warp with 21st century music, laser lights and all the fun of the fair. It's a centuries' old tradition; just one day, but enough for some residents who look forward to the relative tranquillity of the rest of the year, time to relax and enjoy the array of cafes and restaurants offered by both Old and New Beaconsfield alike.
More sedate entertainment arrives in June each year with the Chiltern Shakespeare Company's festival in Beaconsfield. Set in acres of parkland Hall Barn offers a perfect location for a picnic by the lake before the open air performance. From fairground to festivals, commutability and excellent schools, Beaconsfield has a great deal to offer.
Tripadvisor lists some 49 restaurants in and around Beaconsfield with cuisine from all around the world, although the top 3 are currently somewhat less cosmopolitan. Top of the list is the award winning Royal Standard – the oldest freehouse in England. The Jolly Cricketers in nearby Seer Green thoroughly deserves second spot - a "delightful village pub" that serves a "lovely Sunday lunch", whilst No.5, an independent, locally owned, modern British eatery in the heart of Beaconsfield Old Town rounds off the top 3.
Close to Beaconsfield lie the towns and villages of Penn, Tylers Green, Holmer Green, Seer Green, Knotty Green, Jordans, Hedgerley, Hazlemere, Farnham Common, Farnham Royal, Winchmore Hill, Coleshill, Bourne End, Cookham and The Wooburns. All have a unique charm of their own. The sleepy village of Jordans boasts a wealth of history with a small Quaker meeting house dating back to 1688, cemetery and The Mayflower Barn constructed with timbers from the "Mayflower" ship that carried the Pilgrim Fathers to the USA in 1620. Bourne End and Cookham delight with riverside walks and restaurants whilst Penn and Tylers Green, Farnham Common and Farnham Royal all benefit from proximity to acres of ancient woods and parkland. Many are quintessentially English villages focussing on the village green or duck pond with architectural styles ranging from brick and flint with ancient timbers to contemporary block and glass buildings.
Displaying this in miniature, Bekonscot - the world's oldest and original model village and railway - opened for the first time in 1929. With nearly 90 years of history, 1.5 acres of immaculate gardens, a massive model railway and finely detailed model buildings, Bekonscot is a great day out for everyone. Visitors can see England as it used to be and discover Beaconsfield's local heritage – there's even a Frost office there! All profits from Bekonscot go to charity with over £5.5 million raised and over 14 million visitors since 1929.
The Chilterns area is well-known for its picturesque scenery with rolling chalk hills and valleys and beech woodlands and a large part was designated an area of outstanding natural beauty in 1965. In May, as the bluebells come into bloom, this is especially true attracting visitors, cyclists, ramblers and dogwalkers. Film and television location finders are also drawn to the area by its beauty, its quaint, often historic, architecture and by the studios located nearby.
Those currently living in or near Beaconsfield will already know its many benefits including excellent school options and transport links providing a quick commute into London, easy access to Heathrow and the motorway network. Those considering a move into the area will not be disappointed. On close inspection it offers an enviable lifestyle for families and individuals, just 25 minutes from London by train and in the heart of spectacular countryside. It's not surprising then that property comes at a premium. For more information about the area or to see our properties for sale or to let in this area please contact our Beaconsfield office or visit frostweb.co.uk.