Spotlight on Burnham - our estate agent's view
Wednesday, October 11, 2017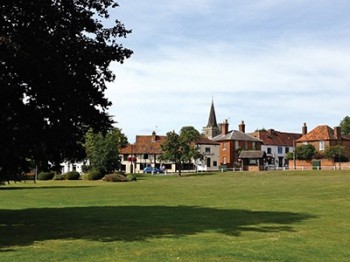 Spotlight on Burnham - our estate agent's view. The village of Burnham lies just west of Slough close to J7 of the M4. It has excellent transport links, with mainline railway stations at Burnham and Taplow, connecting to London Paddington, Slough and Reading. With the advent of Crossrail, journey times will improve even further and this has already contributed to the rise in property prices in the area.
Initially of Roman origin, Burnham was first recorded in the Domesday Book in 1086 as Burneham meaning "homestead on a stream". Fast forward to the 21st century and there's a real sense of community with the outstanding (OFSTED) Dropmore School, Burnham Grammar School, clubs and societies like rowing, bridge, opera and sailing all keeping the community spirit alive. Local leisure facilities include archery, clubs for cricket, football and tennis and Burnham Beeches Golf Club.
Recently modernised, Burnham Park hosts social events year round such as open air cinema and the annual donkey derby organised by the Rotary Club which attracts about 3,000 people and raises £10-15,000 for charities such as Marie Curie Cancer Care and Alexander Devine Children's Hospice Service.
For foodies, The Blackwood Arms, Artigiani del Cibo (known for its fresh authentic Italian food) and Akash Tandoori top Tripadvisor's list of recommended restaurants in Burnham, offering affordable, relaxed dining.
Over the years Cliveden, the Grade 1 listed stately home, has hosted elite society parties with famous names from Charlie Chaplin to Winston Churchill attending but it is perhaps best known as the starting point of the Profumo Affair that brought the British parliament to its knees in 1963. Today, Cliveden is one of the world's finest luxury hotels, enjoying panoramic views over the River Thames and surrounded by 376 acres of magnificent National Trust gardens .
Just north of Burnham lies Burnham Beeches - a 540 acre stretch of ancient woodland, ideal for outdoor pursuits and family picnics. The woods are home to more than 60 species of rare plants and animals and the area is protected as a Site of Special Scientific Interest. Nearby Pinewood, Shepperton and Bray film studios often use Burnham Beeches as a location. Films shot there include Robin Hood Prince of Thieves, Casino Royale, Harry Potter and the Order of the Phoenix and Harry Potter and the Deathly Hallows - Part 1. Filming is restricted to 20 days per year and to certain areas to preserve the woodland and its wildlife.
So what does the future hold for Burnham? Crossrail will make this pretty village a commuter heaven with journey times to Paddington and Canary Wharf of 32 and 49 minutes respectively. Property values here are some 25% above the UK average and the "Crossrail effect" could add a further 10%. Buyers may find Burnham expensive, but a relatively safe investment. Housing stock is varied with old timber-framed cottages alongside boxy, neo Georgian houses and contemporary eco-homes giving buyers a wide selection. By retaining its village atmosphere, Burnham could well offer residents the best of both worlds.
For more information or to see our properties for sale or to let in the Burnham area please contact our Burnham office.