Spotlight on Staines-upon-Thames -our estate agent's view
Thursday, December 7, 2017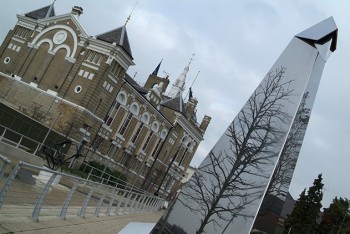 Spotlight on Staines-upon-Thames -our estate agent's view. Staines-upon-Thames is a vibrant riverside town offering residents a lifestyle to match. The town is growing and there are clear signs of infrastructural improvements. Proximity to London, relatively low rents and an increasing number of start-up businesses have put Staines in the spotlight as THE place to be. There has been a significant increase in new businesses per 10,000 population with a figure more than three times the UK average and despite poor press in the past, the town has established itself as a hotspot for start-up companies, including high-tech businesses attracted to the M4 corridor. A town centre transformation in recent years and superb transport links by road, rail and air all add up to a highly attractive proposition.
There has been a river crossing at Staines since AD 43 when the Romans arrived in Britain. Currently Staines Bridge spans the Thames with a three arch structure completed in 1832. In the 17th century Staines was a staging post with coaching inns, described as "one wide street, containing several good houses, terminating at the river." Today, it's a bustling town attracting visitors to The Elmsleigh Centre and Two Rivers where Vue cinema seats over 2000 guests at its 10 screen complex surrounded by restaurants and retail outlets. Premier Inn is in construction at the top of the High Street, scheduled to open in spring 2018. Restaurants in the area include The Three Horseshoes offering English cuisine, Sushi Nara and Turtle Bay highlighting the diversity on offer whilst Pret A'Manger, Wagamammas, GBK and TGI Fridays are among the "high street" names in Staines.
The town's main employer from 1864 until the 1960s was the Linoleum Manufacturing Company. The term 'Staines Lino' was known worldwide but the factory closed around 1970 and the site is now occupied by the Two Rivers shopping centre. A bronze statue of two lino workers carrying a huge roll of lino commemorates the town's industry. Proximity to London and Heathrow continues to attract blue chip companies such as Bupa, Siemens and British Gas whilst global pharmaceutical giant Mallinckrodt has opened its new HQ in the town.
The town centre focusses on a pedestrianised High Street, with familiar names such as Waterstones, Marks & Spencer, Argos, Debenhams and H & M. A market is held here every Wednesday and Saturday and is one of the busiest street markets in Surrey. Since 2000 landscaping of the riverside conservation area with seating and sculptures has enhanced the waterfront as a promenade.
Most neighbourhoods have parks and open spaces such as Staines Moor, Shortwood Common, Knowle Green, Leacroft and The Lammas. There's a wealth of activities on offer; riverside walks along the Thames Path which link Memorial Gardens to the Lammas Recreation Ground with mini golf, mini train, skatepark, playground, tennis courts, and modern splash park open May to September - ideal for a relaxing day by the river. Slightly further afield the Royal Landscape, Savill Garden, and Valley Gardens offer 1,000 acres of landscaped woodland, lakes and gardens and a great day out in the country. It's a quantum leap from the concrete jungle sometimes portrayed in the media and for a town its size, Staines has a keen sense of community with an annual family fun day in June with free family entertainment, dragon boats, live music, fairground rides and craft stalls.
Whilst steeped in history, Staines' modern culture is reflected by Thorpe Park, a theme park built in 1979 on disused gravel pits which were flooded to create a water-based island theme. One of the first theme parks in the UK, Thorpe Park is also one of the best, geared to a teenage audience with roller coasters and thrill seeker rides.
To discover what the range of property available for sale or to rent in Staines-upon-Thames and to see how the town offers an al fresco riverside lifestyle without the central London property price tag visit frostweb.co.uk or contact our Staines-upon-Thames office.