The key to the property market in 2022
Friday, January 21, 2022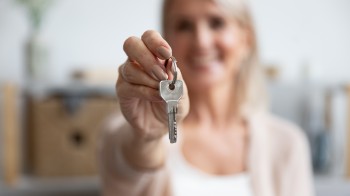 In 2021 the UK property market soared, driven largely by the stamp duty holiday and the resulting buying frenzy as buyers raced to save up to £15,000. But even when the tax break ended, the market remained buoyant. 2021 saw the highest level of completed home sales since 2007 according to Rightmove, while Zoopla stats show that in most UK regions property prices rose more in 2021 than in 2019 and 2020 combined. A shortage of available properties and continuing demand also boosted prices for lettings properties; average UK rents (excluding London) rose 5% year on year and void periods dropped to an average of 18 days in November and December. But what is in store in 2022 and what factors hold the key to the property market?
January and February usually herald a spike in new residential sales listings and renewed interest from buyers as a result. Rightmove reports that buyer demand was up 23% during the festive period compared to December 2020 and this year begins with fewer pandemic restrictions in England than in January 2021. So early indications are promising. Despite the Omicron variant, the UK property market appears to be better placed than it was in January 2021.
Whilst the pandemic has impacted economies worldwide and curtailed our personal freedom, it has also created a turning point in our home/work balance and increased our desire for space. Many have reviewed their property needs/wants and are choosing to move because they no longer need to live as close to their workplace if they do not have to be there every day. Many employers continue to work to hybrid models, and this widens commuter zones beyond major towns and cities.
In mid-December 2021 the Bank of England raised its base rate for the first time in over three years. At 0.25%, the rate remains very low, and there may be further increases in 2022 to keep inflation in check, but many analysts believe the increase will make little impact on the housing market. Approximately 50% of homes are owned outright, with no mortgage, and 75% of the remainder have fixed rate mortgages, with repayments staying the same until their current deal ends. Those on standard variable rate mortgages or tracker mortgages will see their repayments increase - just over £15 a month for the average tracker mortgage and nearly £10 more per month for standard variable rate mortgage-holders. Some buyers may be deterred by the prospect of further interest rate rises, but the stress-testing measures already carried out by lenders should mean that most homeowners can absorb small rate rises through 2022.
With continued Government commitment to reduce carbon emissions, the energy efficiency of properties has become a priority and in 2022 we are likely to see more attractive mortgage rates for energy efficient properties. Lenders may have to provide details on the energy efficiency of the properties on which they hold mortgages, and some now offer 'green mortgages' with better deals for properties rated 'C' or above on their EPC.
The energy efficiency of properties in the private rental sector is also in sharp focus. In England and Wales, landlords will need to achieve an EPC Band C rating for all new tenancies by 2025 and all existing tenancies by 2028. If your property is currently rated below 'C', now is the time to consider what improvements could be made and find ways to finance those. The investment into making your property "greener" should enhance its value, attract tenants and make future rent increases sustainable if improvements lower their energy bills. Costs should also be tax-deductible and better buy-to-let mortgage rates may be available as outlined above.
The private rented sector awaits the Renters' Reform white paper, due to be published in 2022 with proposed changes to include a mandatory redress scheme membership for landlords and the introduction of a landlord register. These are positive steps towards improving standards and perception of the industry. Further changes include the scrapping of Section 21 'no fault' evictions and reform of Section 8 notices, the latter to include improving the eviction court process, so that landlords are still able to regain possession of their properties when they need to. The introduction of 'lifetime' deposits, enabling a tenant to transfer a deposit made on one property to another aims to speed up and reduce the cost of moving for tenants.
The Leasehold Reform Bill is likely to become law in early 2022. Under the Bill, developers of new properties will only be permitted to charge a 'peppercorn' rent (effectively zero ground rent) which will also apply to anyone extending their lease under the statutory route, providing they have owned the property for at least two years. This is good news for landlords looking for new leasehold investments or extending current leases and gives hope to all existing leasehold property owners that the legislation may be extended to all ground rents in the future.
Rental voids ended 2021 25% lower than January 2021, an indicator of how strong the lettings sector has been over the past 12 months. Rising property prices makes Buy-to-let the medium to long term investment of choice, with 33% of landlords looking to expand their portfolio in 2022, and 14% planning on purchasing more properties than they had initially planned, based on confidence that house prices would continue to increase next year.
As with previous years, we expect to see increased activity in January, and will continue with our Covid safety protocols for appointments to protect all parties involved. We have kept these in place throughout 2021 and will begin 2022 in the same way. The property market is open for business and those looking to buy, sell, let or rent should feel confident that their well-being and that of our staff remains our priority. There will be times during the pandemic when flexibility is required. All aspects of a sale or let, from conveyancing to removals, may be affected by Covid and staff absences but with a little patience can still go through to completion. Key factors are the use of masks, sanitiser and ventilation of properties and a sensible approach on appointments. Our use of virtual viewings keeps visits to a minimum whilst still ensuring properties can be seen by parties wishing to proceed.
2022 has a great deal to offer in terms of the property market and the outlook is very positive for both sales and lettings. Buyer demand is high and as demand continues to exceed supply, we are seeing a strong sellers' market. Buyers can appreciate continued affordability of borrowing with interest rates still close to record lows and will have greater choice as more properties come to market. The market is likely to remain robust in 2022 even allowing for further interest rate increases and whilst the rapid price growth rates seen in 2021 are likely to slow, even conservative estimates are for a 3% uplift in property prices across the UK by the end of 2022.