Top 20 "must have" features to sell your home
Thursday, October 25, 2018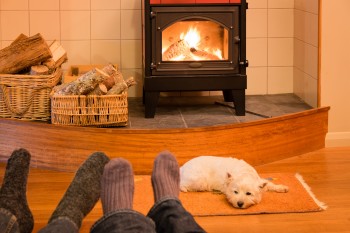 Times are changing and in the current property market period features, good schools and an ensuite bathroom are just not enough to prompt a quick sale, according to a recent survey by GoCompare Mortgages. The survey, which asked 2,000 UK homebuyers where their priorities lay shows a top 20 features wish list from potential homebuyers that has changed considerably even in the last 3-5 years due to technological advances and lifestyle changes.
Warmth, energy efficiency and security are key priorities for buyers with central heating, double-glazing, secure doors and windows taking the top 3 places in the "must have" features list. Gocompare's mortgage spokesman said, 'It's clear that today's potential homebuyers are putting practical concerns ahead of aesthetics. They are looking for warm, cosy properties, which are energy efficient and well connected to modern amenities rather than ones that are full of character. For many buyers, the on-going costs of running a home - paying the mortgage, utility bills and council tax - are a real concern. It's perhaps unsurprising then that well-insulated homes and efficient central heating systems are key priorities.'
Increasingly technology matters, however with more adults working from home and connectivity a requirement for schoolwork, gaming, leisure and "socialising". Unsurprising then that reliable broadband, plentiful electric sockets and good mobile phone signal rank higher than basic bathroom amenities. Almost 60% of buyers require a reliable broadband connection strong enough to stream films and TV and a living room big enough for a large flat screen TV is important to 42% of homebuyers. Homebuilders and tech companies alike are embracing the wants and needs of today's consumer and addressing the growing demand for integrated smart technology in homes.
An ensuite bathroom no longer makes the top 20, but 50% of homebuyers still want a bathtub, 49% a separate shower cubicle and 52% are looking for 2 or more toilets. If you're selling your property, a shower and extra toilet may be practical investments, but don't be tempted to remove the bath to create space. Without one you are reducing the number of potential buyers for your property.
Outside space remains popular, with 69% looking for a garden. If you're buying a first home, your budget may not stretch to a good-sized garden, but even a small space can be transformed with some furniture and some pretty plants. If you're selling, make sure your garden is looking its best and makes a lasting impression.
Efficient, family-friendly layouts and open, floorplans with smart home technology are increasingly popular. Over and above the specific Top 20 features, today's buyers are looking for well-designed homes with flexible space in central living areas, great flow and clever, integral storage. Think smaller and smarter homes with a healthy respect for the environment, conserving energy using high tech systems. Sustainable living and smart home technology is here to stay and becoming increasingly important. If you have smart home technology or clean living features, you're well-placed when you decide to sell.
Above all though, make sure your home is in 'move straight in' condition. Homebuyers are also looking for electrical and plumbing fixtures to be compliant with current building codes and in full working order. They want to know that they can move in and enjoy their new home, without spending time and money fixing it up.
Aesthetics will always be important in attracting potential buyers to a property in the first instance and can be pivotal in their final decision. Accessories play an important part making a house a home; candles, flowers and pleasant aromas go a long way in influencing a potential buyer. First impressions count so before marketing your property, maximise its kerb appeal with a new coat of paint, impressive lighting and a tidy garden. Even if you are not planning to sell, a fresh and welcoming exterior is wonderful to come home to each day.
As with any national survey, results vary by location, so before making any significant investment into "must have" features to your home, talk to your local Frost office about what really makes a difference in your area. In every branch you'll find trained staff who live locally, know what drives the local property market and who know precisely what buyers are looking for in your town or village.
For advice on which of the Top 20 "must have" features are key to selling in your area contact your local Frost office.
Top 20 'must-have' features for selling your home 1. Central heating: 82% 2. Double glazing: 80% 3. Secure doors and windows: 74% 4. A garden: 69% 5. A good, reliable broadband connection sufficiently strong to stream films and TV: 59% 6. Plenty of electrical sockets: 59% 7. Local shops and amenities: 58% 8. A driveway or dedicated parking space: 53% 9. A reliable, clear mobile phone signal: 53% 10. A good energy efficiency rating: 52% 11. At least 2 toilets: 52% 12. Friendly neighbours: 51% 13. A bath tub: 50% 14. A shower cubicle: 49% 15. Cavity wall insulation: 46% 16. A living room big enough for a large, flat screen TV: 42% 17. A garage: 41% 18. A dining room: 40% 19. A landline telephone: 39% 20. A new boiler or central heating system: 37%