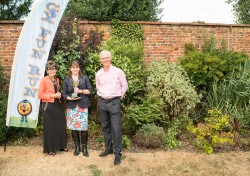 Friday, July 13, 2018
Congratulations to all the Frost runners who took part in the 2018 Gerrards Cross Fun Run in May - 36 adults and 1 dog in the main race, 1 six year old in the kids' sprint race. With representatives from 6 of our 15 network offices (Gerrards Cross, Chalfont St Peter, Chalfont St Giles, Slough, Beaconsfield and Flackwell Heath) and ages spanning over 7 decades, the team did incredibly well bringing home the hotly contested and much prized Estate Agents Cup which was presented last night at the GX Fun Run awards evening. Special thanks to Lizzie Walsh, Negotiator in our Gerrards Cross office, for her superb organization of the Frost team, pictured here holding the cup alongside Sally Collins and Geoff Collins, Director for The Chiltern Group offices at The Frost Partnership.
---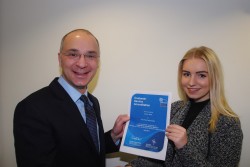 Thursday, March 1, 2018
Pictured here receiving her certificate from Paul Prokopiou, Training & Business Development Director of The Frost Partnership, is Emma West from our Amersham office, who is celebrating after becoming an accredited Relocation Agent Specialist, having completed a comprehensive online training programme, The Importance of Service.
---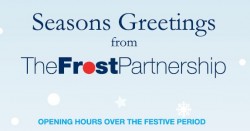 Thursday, December 14, 2017
If you are looking for some property advice over the festive period, our Opening Hours are..
---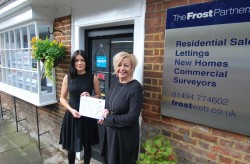 Friday, October 6, 2017
Congratulations to our Chesham office which has been awarded Silver at "Chesham in Bloom" for their planter and hanging baskets. Chesham was one of the finalists in Britain in Bloom representing Thames and Chilterns as the best large town in the area.
---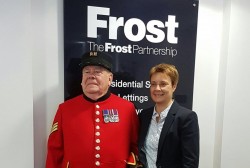 Thursday, September 28, 2017
Franky Viccars from our Beaconsfield office recently had the honour of selling the home of a retired soldier, who served his country for 40 years in the Irish Guards. He was proud to be selected after several interviews to join the Royal Hospital, Chelsea as a Chelsea Pensioner where he joins some of the veterans he already knows, although at 75 years old he's still one of the youngest!
---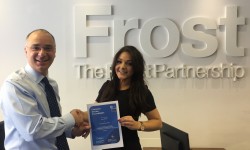 Friday, August 18, 2017
Ben Levi from our Chalfont St Peter office and Lydia Zammit from Ashford (pictured receiving her certificate from Paul Prokopiou, Associate Director of Training & Business Development) are celebrating after becoming accredited Relocation Agent Specialists. The accreditation is awarded by Relocation Agent Network and is achieved by completing a comprehensive online training programme, The Importance of Service.
---