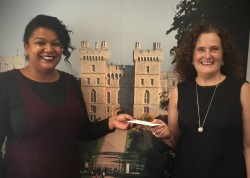 Tuesday, November 29, 2016
Lucky Windsor resident, Deborah Thomas, was chosen at random to receive £500 in John Lewis vouchers following the successful completion of her conveyancing transaction. Deborah used Stephensons, the national law firm, when purchasing her new home earlier this year and was entered into the firm's autumn competition for a chance to win £500 in chosen vouchers. She found her new home with the help of The Frost Partnership estate agents in Windsor.
---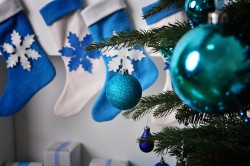 Tuesday, November 22, 2016
Christmas lights events are already well underway so if you're going to your local "Switch on and Shop", come in and see us.
---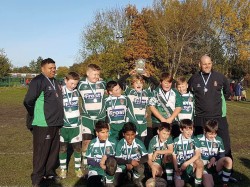 Wednesday, November 16, 2016
As if to underline that "Teamwork gets you moving" Slough RFC sent this write up about their Frost sponsored U11s side. On Sunday, Farnborough's Mini Rugby Festival was about much more than just rugby skill. Teams from around the country were marked on how well they embodied rugby's Core Values of teamwork, respect, enjoyment, discipline and sportsmanship; the values that lie at the very heart of Rugby Union in England.
---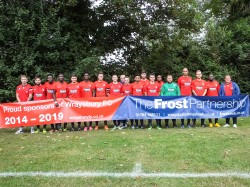 Thursday, September 8, 2016
The Frost Partnership celebrated the extension of its sponsorship of Wraysbury FC through to 2019 by unveiling new banners at the Memorial Ground ahead of Wraysbury's Thames Valley Premier League win on Saturday over third placed Mortimer.
---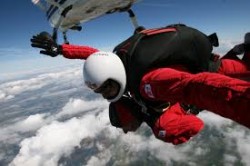 Monday, August 8, 2016
Jumping out of a plane at 15,000' is not everyone's idea of fun but that's exactly what (brave but crazy) Lee Moss from our Slough office is going to do with just one of the Red Devils* team and a parachute for company! Spurred on by colleagues, he's doing the tandem skydive in Nottingham on 8th September in memory of Doreen "Dee" Farrer and to raise money for Thames Hospice who cared for her in her final weeks. Lee has a justgiving page set up and running. Please support him with a generous donation if you possibly can.
---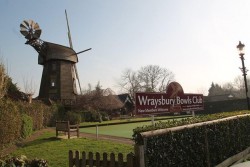 Thursday, July 28, 2016
Wraysbury has had more than its fair share of famous residents over the years – so just what is it about Wraysbury that attracts the glitterati? Actors and musicians are drawn by proximity to both Pinewood and Shepperton Studios and surrounding areas have often been used as film locations. In Wraysbury itself, one of the lakes was used as the scene for the disposal of 007's car in the James Bond movie, A View to A Kill . Access to London, its theatres, society events and all that the capital offers is another lure for both stars and mere mortals alike.
---